It's my opinion that everyone should think carefully, irrespective of old party allegiances they may have, before casting their vote in a General Election. As it happens I'm a lifelong Conservative supporter, albeit my patience has been stretched to breaking point by Theresa May over the last couple of years.
Nonetheless at every election I do, sincerely, try to clear my mind of any biases, automatic loyalties and prejudices – and to think as objectively as possible about what's the wisest choice. Not just for my family, but for our country and our wider society, giving especially careful consideration to the many less fortunate than myself.
I've done that this time, and it didn't take me long to reach my decision. Barring inconceivable unforeseen circumstances, I intend to vote Conservative.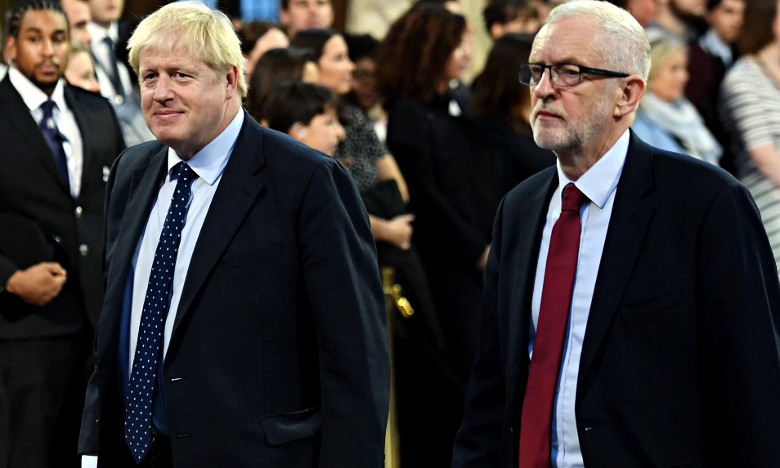 Let me start by articulating some important positive reasons for that choice.
First: Brexit. While this is widely considered to be the central, defining issue of this election – and in a sense, it is – the important question for me is not whether the UK is better off outside the EU, because that matter was put to the people and settled at a referendum in 2016.
The actual question at hand is whether the people's instruction to leave should be respected, and fulfilled.
I strongly hold the view that it should, not only because that is the only moral choice when the people have expressed a view on the way they are governed at a referendum, but also because a failure to do so can only lead to a catastrophic, lasting, corrosive distrust in our politics.
Attempts to defy the referendum, particularly by members of parliament on all sides, have already led to bitter division and resentment. My opinion is that this General Election should be seized as an opportunity to heal these wounds, not to twist a knife in them.
The Conservative Party is the only political party fighting this election with both a chance of winning and the will and integrity to deliver on the people's historic choice.
Brexit apart, I am pleased with the reforms made to our welfare system by Conservative governments in recent years. It seems to me that easy access to handouts had led to taxpayers sustaining a permanent benefits underclass, which is not only a strain on the treasury and on working people who pay taxes, but a reservoir for crime and anti-social behaviour.
I do not want to see the valuable work done by Iain Duncan Smith and others undone by a government with an instinct to buy votes with handouts paid for by other people's money. Only today I heard an employer state in an interview on Radio 5 Live that the reason Eastern Europeans had taken so many jobs was that the local young British population preferred to stay at home on benefits. I think I'd prefer them to get up and work and pay their own taxes, instead of absorbing mine.
The Conservative Party in government in the current decade has an enviable record. Unemployment in particular is at a historic low; there are a record number of people in full-time jobs. The deficit has fallen from 10% of GDP to around 1.2%, since 2010.
Under the Conservatives there are over 21,000 more doctors and 17,000 more nurses in our hospitals, and a budget increase of £33.9 billion is planned. That's important, I feel.
Finally – I find Boris Johnson to be a charismatic leader, with a powerful can-do, infectiously enthusiastic approach to government. He stepped up to a difficult challenge in taking the reins of the Conservative Party at a very trying time. He confounded his critics by negotiating the deal with the EU they had condescendingly told us was not possible. And he took courageous and resolute action against those in his own parliamentary party who had betrayed not only their party, but undoubtedly their country as well, by supporting Hilary Benn's Surrender Act, intended to undermine Britain's negotiating position with the EU.
Now let me describe the essential negative reason to vote Conservative at this election. I badly want to ensure that Jeremy Corbyn's Labour Party is kept well away from the levers of power.
Why? Well I could write a book about that, and you know what? Perhaps I should. But let me summarise a few reasons here.
Firstly – socialism. Labour's whole schtick of taking public utilities and other industries into state ownership, removing their incentive to perform by eliminating their competition, then crippling them with militant trade unionism. It didn't work in the '60s and '70s, when that mode of government was last in vogue. It resulted in millions of jobs being exported abroad and the collapse of traditional British heavy industry. It punished the taxpayers and led to awful public services. We thought it had died a welcome death decades ago, but apparently it's fashionable again in some quarters.
Labour's hard left has an instinctive, reflexive disdain for business and wealth creators.
It seems incredible now, but there was a time when you weren't allowed to own a telephone. You had to request one from the state communications monopoly, and it remained their property. There were about three models and three or four colours to choose from, and usually you'd go on a waiting list.
In those days, the state owned you. A Conservative government saved us from that nonsense starting in 1979, and I just don't want to go back there. I must make sure my vote counts against that.
Labour in its current hard-left incarnation is more extreme and controlling than it has ever been. In office, it might very well start to take control of the press, and of education. We could end up with political officers in every school council and media outlet. These people are blinkered fanatics. They would think of closing down the Daily Express or imposing political censorship on the BBC as the moral thing to do.
The Labour Party in the last parliament showed no particular commitment to delivering Brexit and their present manifesto shows precious little, either. They claim that they will negotiate a credible deal to leave the EU, but most of the senior Labour Party will then ask you to reject it. In other words it's literally in their interest to negotiate an awful deal. And given that opportunity – of course, that's exactly what they'd do in my view.
But even if the Leave side won that argument again, as I believe they would – I have no confidence that a parliament dominated by Labour, or by Labour and the SNP, would respect our decision. We'd just have another few years of frustration and delay, perhaps culminating in a third referendum – just to give you another chance to change your mind.
I don't want a second referendum in the first place; I want whoever's in charge to get on with honouring the first one. That is already well overdue. And for that reason alone I would vote to keep Labour away from power.
Corbyn's stance over Brexit in this election has been to adopt a neutral position. The man who wishes to be Prime Minister of this country would not support either side, Leave or Remain. On this most important of issues, he won't tell you where he stands. That is surely a transparent failure of leadership.
And on that note: let's consider more carefully the character, judgement and integrity of Labour's leader. Grim reading follows, I'm afraid.
Jeremy Corbyn supported the Provisional IRA in its lethal conflict against British service personnel and civilians for decades. Some would have you believe that this is a "smear" dreamed up by the right-wing press, but a little bit of research will tell you that it isn't:
Each year between 1986 and 1992, Corbyn attended and spoke at the annual "Connolly / Sands" commemoration in London, held in honour of dead IRA terrorists and "prisoners of war".

He hosted meetings of the ultra-left extremist group Red Action, an organisation that expressed (in its own words) "unconditional and uncritical support" for the Provisional IRA, at his constituency office.

He was a member of the editorial board of a hard-left publication which praised the Brighton bombing of 1984.

In 1987 he handed a petition to Margaret Thatcher demanding "the immediate transfer of Irish political prisoners to prisons near their homes". The same year, he stood in a minute's silence for IRA gunmen killed while attempting to blow up a police station in Armagh, saying "I'm happy to commemorate all those who died fighting for an independent Ireland".
And it's not just the Provos, of course. Corbyn famously considers Hamas and Hezbollah to be his friends. He laid a wreath in commemoration to the murderers of the Israeli athletes killed in a terrorist attack at the 1972 Olympics.
And when three people were severely poisoned and a fourth killed by military grade nerve agents used in an assassination operation by KGB agents, Corbyn rushed to the defence of the Russians in our Parliament, preferring to give them the benefit of the doubt.
Yet while he lauds and praises armed groups hostile to Western interests and the United Kingdom in particular, he is the first to condemn any armed action undertaken by his own country. Recently a video was uncovered showing Corbyn ranting angrily about an operation carried out by the "lawless" SAS in Basra.
In the event of a Labour victory at this General Election, Corbyn would be in ultimate charge of our armed forces and of the defence of this country. It must surely be obvious that he cannot be trusted with either responsibility.
Consider too Corbyn's obsession with extreme leftist ideology. When Maduro took over Venezuela in 2013, Corbyn sent his sincere congratulations to him, and to the whole of the Venezuelan people. He appeared at public meetings, cheering on the new regime. "It's called socialism", he said. A "better way of doing things". A few years later Venezuela's economy was on its knees, with queues forming outside empty supermarkets, hyper-inflation and hospitals going without basic medicine or even soap. That's what Corbyn's ideology did to the most oil-rich nation on Earth.
That's not the sort of judgement I want or expect from a British Prime Minister. Next time you hear Corbyn complain about the way the Tories have run the NHS, have a think about what it must be like to fall ill in Venezuela, under Corbyn's "better way of doing things".
What else? Corbyn appointed John 'Provo' McDonnell as shadow chancellor shortly after being elected leader. This is a man who once read from Mao's Little Red Book in the Commons during an exchange with George Osborne, and openly praised what he described as the "bravery of the IRA and people like Bobby Sands". A man who has on more than one occasion said that he'd like to bring his political opponents to trial as "social criminals".
In the event that Labour win this election, the disaster-prone Diane Abbott, who also quite openly supported the Provisional IRA in the '80s, would be our Home Secretary. Jeremy thinks that's a good idea evidently. I don't think I do.
And Corbyn appointed Angela Rayner, a woman who left school at 16 without qualifications and who can barely manage a coherent sentence, to be shadow Education Secretary.
Corbyn pocketed £20,000 from Iranian state TV at a time when that country was hanging people from cranes for the crime of being gay. When questioned about this in a Pink News Q&A session, his defence was that this was "not an enormous amount".
Perhaps most disturbingly of all, under Corbyn's leadership, anti-semitism appears to have found a natural home in the Labour Party, which is one of only two parties found to have met the necessary evidentiary threshold to warrant being investigated for racism by the Equalities and Human Rights Commission (the other is the BNP).
In its submission to that organisation, the Jewish Labour Movement – again, not an instrument of the right-leaning press – concluded that the Labour Party is no longer a safe space for Jewish people based on the testimonies of former staff, Labour members and officials.
Several Jewish Labour MPs have been driven out of the party. The MP for Liverpool Wavertree, Luciana Berger, was subjected to what she described as a "torrent of anti-semitic abuse" from Labour supporters before she left the Labour Party over its "institutional anti-semitism".
Corbyn has frequently championed individuals and organisations who have denied the Holocaust.
The activist and social commentator Sara Gibbs – a Labour Party member, not a puppet of the right wing press or the Conservative Party – conducted an extremely thorough investigation into Labour's anti-semitism crisis, in forensic detail. In it she argues that Corbyn personally holds "deeply rooted anti-semitic beliefs which are too intrinsically held to recognise". It's a fascinating (if long) read, and you can do so here:
https://medium.com/@sararoseofficial/everything-i-never-wanted-to-have-to-know-about-labour-and-antisemitism-649b5bc1e576
Asked during an interview to apologise for his failure to deal with anti-semitism, the Labour leader refused to do so – four times.
A common defence made by Labour supporters against allegations of anti-semitism in their party is that they are "smears". A brief skim through Gibbs' work will show that they aren't. The other classic defence is the whataboutery gambit, the yes-but-the-Tories-are-Islamophobic defence.
While there have certainly been instances of Tory councillors and similar making stupid Islamophobic remarks, these have been dealt with promptly and properly. Any suggestion that the Tory Party is a natural home for Islamophobes or that it is institutionally racist is without foundation.
It is true that Boris Johnson once described the burka as "oppressive and ridiculous", describing those who wear it as looking like letterboxes. I submit that this is a view held by many liberals, perhaps most often by feminists. It's a view that has more to do with the dehumanisation of women than with Islam, most of whose adherents don't actually wear one in any case. And actually, in the article in which Boris employed that colourful turn of phrase, he was arguing against the burka being banned.
You can find an article online written by the left-leaning commentator Polly Toynbee in which she speaks of the burka in far more contemptuous, lurid terms than that, yet somehow she is not normally considered an Islamophobe.
But I digress.
I could probably spend another couple of hours writing about Corbyn's appalling character and judgement. I don't really want to do that though, because it's depressing enough already. As a general observation: it's baffling to me that a Labour MP would spend his career in Parliament campaigning for international terrorist and radical / groups rather than concerning himself with the welfare of working people in general and his constituents in particular.
I'll wrap up that subject with one last thought. It isn't lost even on the majority of Labour MPs that Corbyn is unfit to be Prime Minister, or even the leader of their party. The Parliamentary Labour Party voted to support a no-confidence motion in their leader in June 2016. This passed by 172 votes to 40, but Corbyn did not have the integrity or personal dignity to stand down.
So: I've explained why I want to vote Conservative in a positive sense, and why I think it important for a person of conscience to vote against Labour.
But what of the Brexit Party, and the Lib Dems? Or UKIP?
Well, briefly: the Brexit Party isn't standing in my constituency anyway, so for me that's not even an option. However – their basic stance is that the PM's withdrawal deal is not acceptable, and they would oppose it. My own view is that it is an honourable compromise that properly achieves the essential purpose of leaving the European Union. They probably won't get a single seat in the Commons and the great risk is that voting for them splits the Brexit vote, making a fulfilment of the referendum result less likely and risking an extremist / anti-semitic government taking power.
And the Lib Dems? Again there is no possibility that they will form a government, but they might prevent a Conservative government in a hung parliament. In any case their blunt anti-Brexit policy – they would simply cancel it, and pretend the referendum never happened – is obviously a slap in the face to millions of ordinary people who voted to leave, and won that argument in 2016. There's something rather unsavoury and cultish about their servile devotion to the European Union.
Since Nigel Farage stepped down as leader UKIP have entertained a series of ineffectual leaders, finally lurching to the far right, even hiring Tommy Robinson as an adviser in 2018. I have no truck with or tolerance for that.
I don't live in Scotland, but if I did, might I vote for the SNP? Well they are fundamentally a single issue party (Scottish independence, of course) with a side order of contempt for the referendum. Their repeated mantra that Scotland voted to remain in the EU is undermined somewhat by the fact that Scotland wasn't actually a constituency in the EU referendum, and nor is it a member of the EU. They would undoubtedly prop up a Corbyn government. But if, as a Scot, I wanted independence from the UK, I'd vote for them. If I didn't – I wouldn't. I don't have a dog in that fight.
In summary then – on Thursday, I'll cast my vote to support our economy and society and to reward a strong record in office.
I'll cast my vote to defend our Jewish community, genuinely and justifiably frightened of a Corbyn government.
And I'll be thinking especially too of the poor and vulnerable – people who depend on the NHS; people who can't afford to lose their jobs to economic failure. People, in other words, who cannot afford to depend on a society broken by socialism.
For them especially I will vote Conservative, and I'll do that for them gladly.
Please do feel free to share this piece, in whole or in part, on any other forum or social media where it might be useful. I've tried to conduct this exercise as scrupulously fairly as possible, and I hope that my analysis might help people who have not yet made up their mind to come to a balanced and sensible decision.